Eco Committee Journal
生态委员会杂志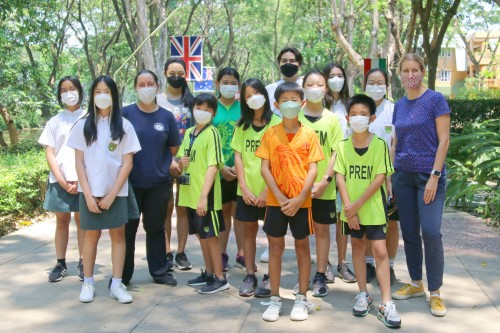 At Prem, we are passionate about moving towards a more sustainable school! As part of our Mission and Vision; working together for a sustainable future,  we have formed an Eco-Committee. This committee is made up of students, staff and parents all of who share a vision and passion for a more sustainable future! The article below is written by a group of students from the Eco-Committee: 
在普林,我们热衷于朝着一个具有可持续性的方向发展!作为我们的使命和愿景的一部分:为了更好地和大家一起去努力实现可持续发展的未来,我们成立了生态委员会。这个委员会由学生,教职工和家长组成,他们都对更可持续发展的未来有着共同的理念和热情。以下文章是由生态委员会的一些学生所发表:
Eco-Committee Journal 环保委员会杂志
The Prem Eco-Committee is a group of teachers, students, and community members who are working towards becoming an eco-friendly school and getting the Green Flag Award from Eco-Schools and the World Wildlife Fund (WWF). We are a community that is working together and supporting each other. Eco-Schools is an organization that includes schools from around the world, that are trying to encourage their community to be more environmentally friendly.
普林生态委员会是由教师,学生和社区人员组成的,他们致力于打造一所环保学校,并获得了生态学校和世界野生动物基金会所颁发的绿旗奖。这是一个共同协作,相互扶持的团体。生态学校是一个囊括来自世界各地学校的组织,而这些学校都在积极鼓励他们的团队去实践更多的环保行动。
 The Eco-Committee had its first meeting today! This morning we met up in the boarding lounge to have our introductions. We then discussed our understanding of a few words that we would be using frequently in our committee: We split up into groups to come up with a definition of Communication, Community, and Sustainability.  Later on, our group gathered around to do chalk talk questions about our Eco-Committee, we all built on each other's ideas.
今天生态委员会举行了第一次会议。今天早上,我们在来访休息室会面并进行了简单的介绍。接着我们讨论了委员会中经常被提及的要点,我们分成了几个小组,沟通整理了关于"沟通","社区"和"可持续发展"的定义。然后,我们小组以粉笔演讲的形式集中讨论了关于生态委员会的问题,并发现我们的想法都建立在彼此的共鸣之上。
 After our short break, we went around the school to explore sustainability areas around the campus. Starting from the farm, the Chum shop, and lastly the laundry department. We also went to the back of the laundry room to check out the recycling area. From our trip, we got to know more about Prem's campus and what the community does.  After the bike ride, we came back to work on individual or group projects based on the roles/responsibilities we had chosen. 
稍作休息之后,我们参观了校园,去探索校园内进行可持续发展活动的领域。从农场,到老友俱乐部,最后到洗衣房。我们还去了洗衣房后面看了一下它的回收站点。从这趟旅行中,我们对prem校园和他们团体所做的行动有了更具体的认识。骑行回去后,我们会总结并把这次经验运用到个人或者团体的活动中去。
Boeing (G5), Oojee (G6), KaoHom (G6)
Eco-Committee Journalist team 
环保委员会记者团