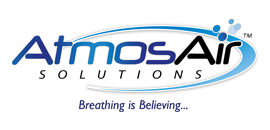 AtmosAir Solutions is the leading manufacturer of air purification systems using bipolar ionization. AtmosAir's patented bipolar ionization technology has been rigorously tested and scientifically proven to be among the most effective solutions for comprehensive air purification of indoor environments.
Protect your staff and students from COVID-19
AtmosAir RIA SAFEGUARD
POWERFUL PROACTIVE PROTECTION
RIA SafeGuard brings powerful PROACTIVE protection to indoor venues like offices, exhibition halls, music venues, schools, places of worship, and more. RIA's technology is constantly PROACTIVE in the occupied space, this is in contrast to passive technology such as UV or filters that are limited by the need for the contaminant to pass them.
AtmosAir RIA's bi-polar ionization technology, received outstanding microbiological efficacy testing results on human coronavirus from Microchem Laboratory, a 99.9% reduction of the human coronavirus 229E. Test results also showed that the influenza A virus (H1N1) is reduced by 99.9%, MS2 (RNA virus) reduced by 99.9%, and Escherichia Coli and Staphylococcus reduced by 99.9%.
AtmosAir RIA SafeGuard is a professional grade portable purification system for a space as large as 1'076ft2 per unit. It transforms air into powerful ions that proactively seeks out and neutralises the pathogens at their source, protects occupants against the spread of illness. It provides continuous disinfection, proven safe to use while occupants are within the space.
This technology is trusted by: Staples Center, Chase Center, Little Caesars Arena, TD Garden, Wells Fargo Center, US Bank Stadium, Bridgestone Arena, UCLA, Google, Deloitte, PwC, LA World Airports, Empire State Realty Trust, University of Maryland, Hilton, Baker McKenzie, Disney, CBRE, and more.
99.9% Reduction in
Human Coronavirus
99.9% Reduction in
Influenza A virus (H1N1)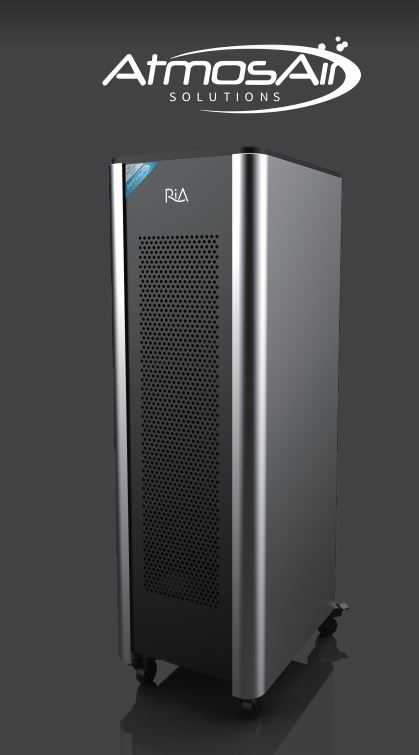 Specifications
PRODUCT: AtmosAir RIA SafeGuard
ELECTRICAL RATING: 120V or 240V, 50-60Hz, 70W
AIR FLOW: 850 CMH
ELECTRICAL RATING: 120V or 240V, 50-60Hz, 70W
DIMENSIONS + WEIGHT: 895x412x276mm, 32kg
CORE TECHNOLOGY: AtmosAir multi-core composite tubes
AREA: ≥100m2 / 1076 ft2
FILTER LEVEL: HEPA H13
NOISE: ≤58(dB)
Laboratory report
Coronavirus tested at Microchem Laboratory – ASTM E1053 NG15291
Clostridium Difficile tested at Microchem Laboratory – ATSM E1153 NG7257
H1N1 tested at Gmicro Testing – 2020FM12168R01E
VOCs tested at Syracuse University – Report No. 2018BEESL
IAQ Testing Report tested at EMSL Analytical, Inc. – 371718751
MS2 Bacteriophage tested at Antimicrobial Test Laboratories – NG6275
Escherichia coli K12 tested at Antimicrobial Test Laboratories – NG6275
Staphylococcus Saprophyticus tested at Antimicrobial Test Laboratories – NG6275
Ozone (O3) Testing Report tested at Intertek ETL – 102097853CRT-001