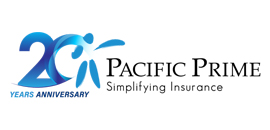 Pacific Prime is a leading international employee benefits (Group Medical, Life, Disability, and Wellness) and risk management consultancy (Property and All liabilities). We have grown consistently over the past 20 years to become one of the foremost advisors to 250+ international schools and educational institutions globally. Based on our close long term partnerships with the schools we represent we have developed a deep understanding of the challenges schools face, offering competitive and affordable employee benefits. We are also have key partnership with educational associations such as IES, EARCOS, COBIS, ACAMIS, AAIE, amongst others.
With global operations in 12 locations (Hong Kong, Singapore, Shanghai, Beijing, Dubai, Bangkok, Cebu, London, New York, Miami, Los Angeles, and Mexico City), we are able to offer a wide range of insurance solutions that transcend global and regional boundaries. All of our solutions are backed by industry-leading support services that are not available with any other broker of our size.
Our team of over 600 professional staff, speaking over 25 different languages, has founded strong relationships with the school community and industry alike, always striving to help you find the right solution for your schools and educators. This has made us one of the largest global brokers in medical insurance and a leading distributor for: BUPA, Allianz, Cigna, TieCare, AXA, Aetna, MSH, CHUBB, Zurich, and many more. What's more, our offices are all fully licensed and leverage IT systems that are built in house to help find, secure, and manage the right compliant solutions for individuals, families, groups, and businesses.
Our dedicated team takes the time to understand your requirements and then help you to understand the various options available. And our service doesn't just stop at finding you the plan that suits you best. As a full-service broker, we offer a talented support team to help you with claims, issues, changes, inquiries, renewal, overall management of the plan, and more. These services, all offered at no extra cost to the school or its community, are what truly sets us apart from other brokers.
Bespoke insurance solutions are a must for optimal school protection.
Our extensive experience with educational institutions has made it very clear that each school has its own unique risks and concerns. That means what works for one school won't necessarily work for another.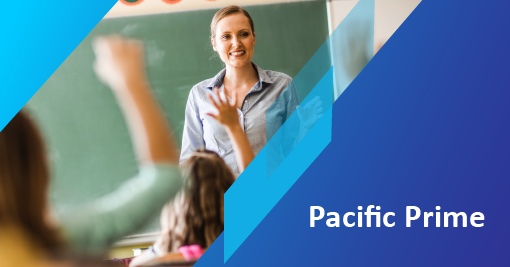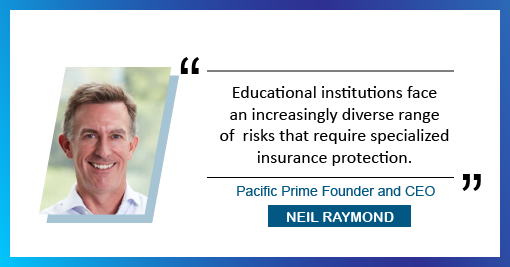 The health and wellbeing of your community is a priority.
Any good organization recognizes that the physical and emotional health of its community is integral to its success and supports their overall wellbeing through various means.
These days, health insurance is expected from most employees and job seekers. If a company wants to stand out and put their employees first, they must offer a solid employee benefits plan that goes beyond group health insurance coverage.
Some popular employee benefits solutions include wellness programs and packages, with benefits such as:
Health concierge services
Vaccination programs
Access to Employee Assistance Programs (EAPs)
In order to be successful, an employee benefits plan needs to be designed, implemented, and managed in a way that works for the company. Fortunately, flexible benefits plans make that possible for organizations of all shapes and sizes.
Protect your school from risks that threaten your operations, financial health, reputation, and more.
Schools face more liabilities than most other types of businesses, such as:
Property damage/Public Liability
Educators' Liability/D&O
Cyber Insurance
Fortunately, a robust risk management strategy and an optimal insurance solution can help safeguard your school.
Aside from essential coverage, we assess your school to determine where you need the most protection.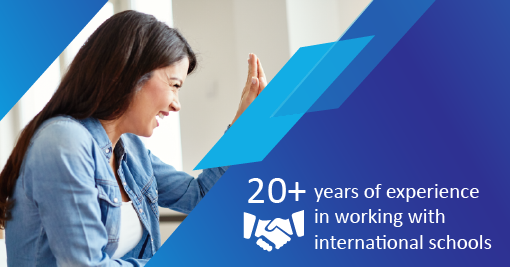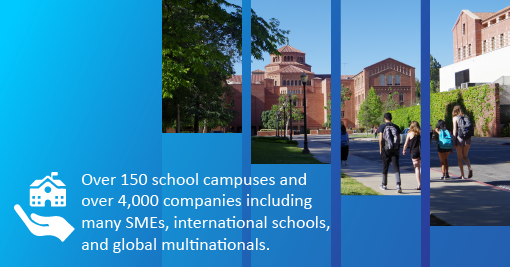 School insurance solutions need to meet your school's requirements to work.
Each school's unique risk landscape calls for tailored insurance solutions. However, there are some must-have plans that all school clients should have, such as:
Group medical cover
Group personal accident cover for Students
School Liability Insurance
Additionally, recommended school insurance solutions can include:
Cyber Insurance
Group Life and Disability
Kidnap & ransom insurance
Knowing exactly which ones to secure is no easy feat. Fortunately, our experts have the knowledge and expertise to save you time and stress.
We're with you every step of your insurance journey.
Along with flexible and bespoke solutions, an experienced intermediary can ensure you're getting the optimal coverage that your school requires.
From selecting and designing your insurance solution through implementing and managing it, our advisors are always available to offer support.
On top of that, our value-added benefits include:
Dedicated account manager
Free online insurance portal
Premium and coverage negotiations
In-depth analysis of your plan(s) and claims data
And more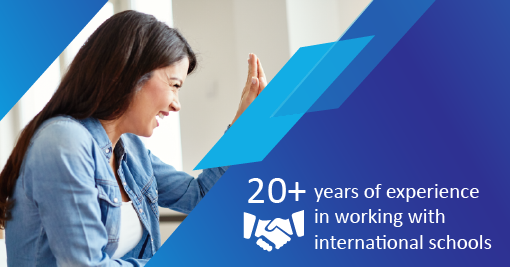 Pacific Prime: Your Global Employee Benefits Specialist