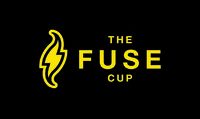 The Fuse Cup is an international esport competition for schools across the APAC region. We focus on providing young students with an opportunity to participate in a safe, supportive and structured esport competition while developing positive gaming behaviours and digital wellbeing. We specialise in supporting all schools, regardless of experience and knowledge, to implement esports successfully. Our chosen games do not include any violent content and our competitions are developed and delivered by skilled educators.
Key information about The FUSE Cup competitions:
Delivers esports competitions for schools from Asia Pacific region

Has three age divisions – Year 5&6, Year 7&8 and Year 9&10

Offers online Esports Courses for students

Facilitates 3 competitions a year

Our format is online competitions for schools throughout the Asia Pacific Region

Online competitions also include schools in Australia who cannot attend live events

Online competitions are supervised by teachers from both schools

Is safe, structured, supervised, supportive and social
Is inclusive and values focused

We use Player Code of Conduct documentation for players and families

We also have a Behaviour Management Policy that clearly outlines behavioural expectations of players

Is age appropriate using console based games that are exclusively non-violent. No fighting or shooting games are part of The FUSE Cup

Is focused on digital wellbeing through the development of positive gaming behaviours alongside partners, Kids Helpline

Is coordinated by highly experienced, reputable and well respected educators

Uses console based hardware (Nintendo Switch) – low set up cost – minimal technical or gaming experience needed – plug and play
Join the competition all year round!
Included in your annual membership is entry into 3 competitions per year from the day you sign up.
Memberships are active from the day you sign up so you will always gain entry into 3 competitions for the duration of your annual membership, even if it runs into the next calendar or academic year.
This way, you can join our competition all year round rather than thinking that you have to wait until next year.
Upcoming International Online Competitions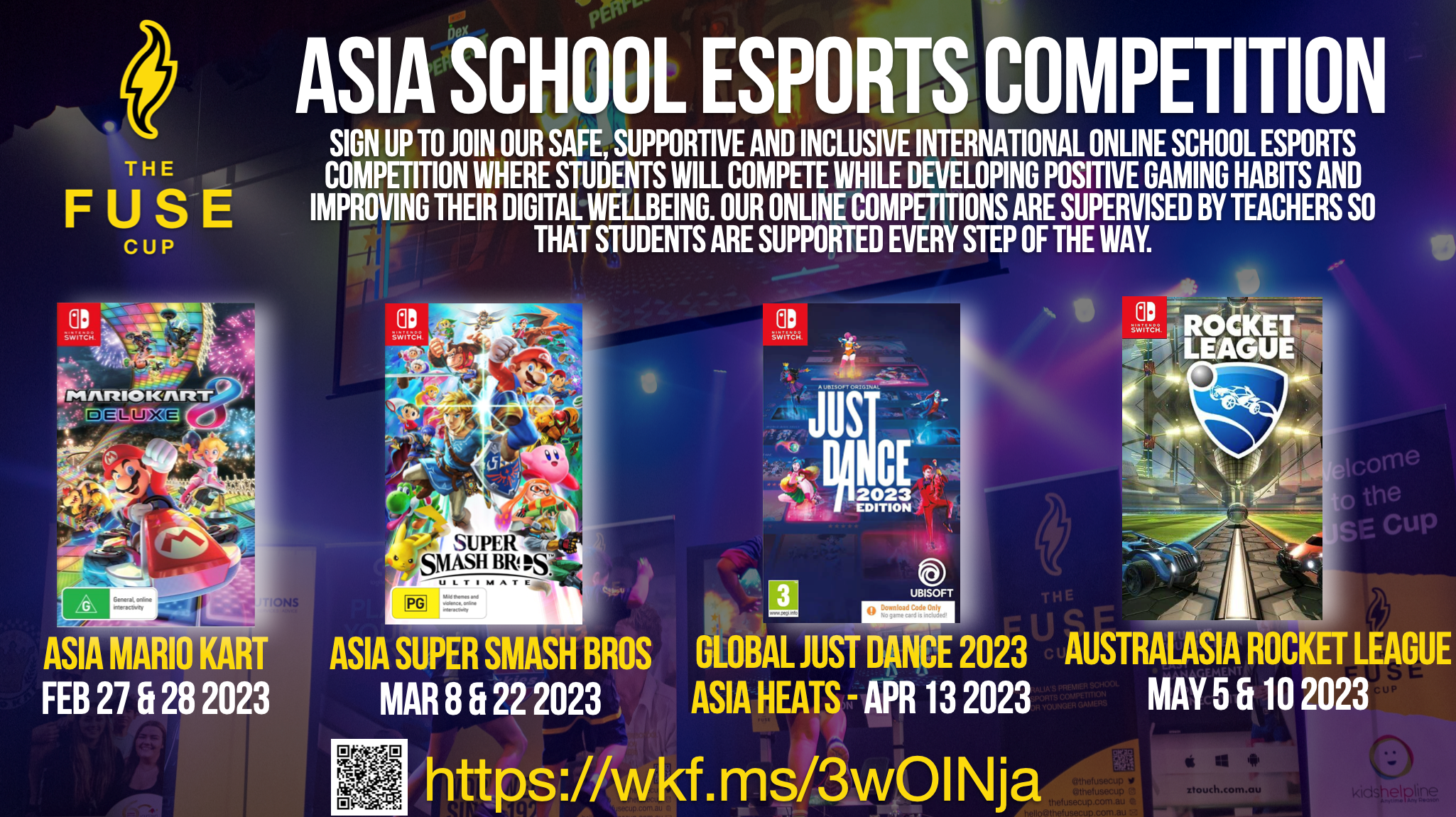 Asia Mario Kart
27&28 Feb 2023
Asia Super Smash Bros
8&22 Mar 2023
Global Just Dance 2023
13 Apr 2023
Australasia Rocket League
5&10 May 2023
What has been the experience from International Schools in Asia?
"The FUSE Cup was a brilliant way for our kids to learn about online etiquette and digital well-being. Our kids enjoyed every second of the FUSE Cup and realised that winning isn't everything, but it's the process and the enjoyment of the journey that counts.  ​It was definitely a unique experience for some of our students to play against kids from other countries. Well done on a super successful Esports competition. Thanks for having us take part"
Rosseau Prinsloo, Physical Education Teacher – Canadian International School of Guangzhou, China
"The FUSE Cup has opened doors to esports at WAB that is in alignment with our mission, core values and IB programmes. Students are excited to take part, and we appreciate the opportunity to engage them in friendly competition and healthy online behaviours that help model positive approaches to learning in collaboration, communication, digital citizenship and balance"
Martin Halpin, Activities Director; Isaac Peña, esports coach; Stephen Taylor, Director of Innovation in Learning & Teaching; Kevin Crouch, Head of EdTech & IT  –Western Academy Beijing (WAB)
"There is no better way to engage students in conversations about digital wellbeing and positive gaming behaviour than getting their hands on a Nintendo Switch! Our Primary students had so much fun participating, and displayed immense patience, resilience, teamwork and sportsmanship throughout training and the competitions. Register your school now!"
Celestine Yeung, Digital Literacies Specialist Teacher – Australian International School of Hong Kong
Frequently and Recently asked Questions:
What equipment do we need to buy to participate in the competition?
 To participate in The FUSE Cup for 2021/22, each school requires the following equipment…
A Nintendo Switch
An additional Joy Con controller
A Joy Con controller charging station
An Nintendo Online account
Wifi
Games for Year 5&6 and Year 7&8 Competitions
Rocket League
Mario Kart Deluxe 8
Just Dance 2022
Games for Year 9&10 Competitions
Rocket League
Mario Kart Deluxe 8
Super Smash Brothers
Does my fee cover all competitions for the year?
Yes, your registration is for 12 months from the date you sign up.
Can you join at any time of the year?
Yes, your registration is for 12 months from the date you sign up.
 What if I join in the middle of the year? Does my fee only cover the remainder of the year?
Schools join our competition all year round. Registrations are calculated on a 12 month period which will see your school participate in 3 events over that time.
What kind of lead time do schools need to provide to join in for any given event?
Generally speaking, once schools have their equipment, the average lead in time for a competition is usually 3 to 4 weeks
Are official Nintendo Switch Pro controllers allowed?
No. We do not allow the use of Switch Pro Controllers in The FUSE Cup for two reasons. Firstly, Pro controllers can enhance performance making it advantageous for students who use them. Secondly, we are all about equity and want to ensure a level playing for all competitors across Australia and Asia.
What days and times are the competitions normally arranged?
There are 3 formats of competitions.
The FUSE Cup Day Events
These are all day events that start in the morning and end a little after lunch time. Where ever possible.
The FUSE Cup Heats
These take place in the morning on various days in an elimination style competition. If your school wins their Heat, they will progress to the next phase of the competition that takes place on a different day.
School vs School League
These weekly matches take place at a mutually agreed time for both competitions schools and usually run for 4-6 weeks.
What is the size of the teams?
Teams are made up of 4 players.
How many consoles to you need for each team or school?
This depends entirely on the way each school wishes to implement esports within their own setting.
Some schools run esports as a weekly co-curricular offering and invite students to participate at a pre-determined maximum group size. This method usually requires multiple consoles, games and controllers to accommodate the larger number of students. From this, schools then select their representative team of 4 players for each competition.
Other schools hold lunch time try outs and select their representative team from this process. With this method, most schools usually opt for 2 sets of consoles, games and controllers to allow more students to try out at the same time.
What is the cost of additional teams in the same age group?
Additional team registration for single events are no longer available. Schools can enter multiple teams in the same age group for the 12-month period. Additional teams within the same age group are priced at $900 USD for the 12 months.