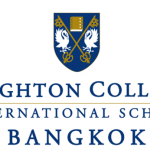 The Graduation Ceremony for Year 13
梦圆布莱顿 · 2022届毕业典礼
The Graduation Ceremony for Year 13 pupils was a huge success as we celebrated the departing Class of 2022 in style, surrounded by their families and friends.
A formal ceremony in the theatre was led by Head Master, Mr. Walton, our Chair of Governors, Khun Nusara and our Head of Sixth Form, Mr. Whitehead. They had many wonderful things to say about a group of pupils who have worked tremendously hard and acted as wonderful role models during their time at Brighton.
We are proud to watch this group head to top universities all over the world – in the UK, the USA, Australia and beyond.
Well done Year 13 – YOU DID it! Congratulations!
我们十三年级学生的毕业典礼非常成功,我们在孩子的家人和朋友的陪伴下,度过了一个属于我们2022届毕业生的、有趣且难忘的毕业典礼。
正式仪式在我们的大剧院举行,并由校长沃尔顿先生、我们的学校主席坤·努萨拉和我们第六学级负责人白头先生主持。 他们谈起很多关于我们学生的美好回忆,例如他们的学习非常努力,在曼谷布莱顿他们成为了一个很好的榜样。
我们很自豪可以看到孩子们即将前往世界各地的顶尖大学继续深造——比如有英国、美国、澳大利亚及其他地区。
再次衷心地表达对同学们的祝贺:全体十三年级的同学们,你们做到了! 恭喜你们!