Using our Campus as a Classroom
这是校园,也是教室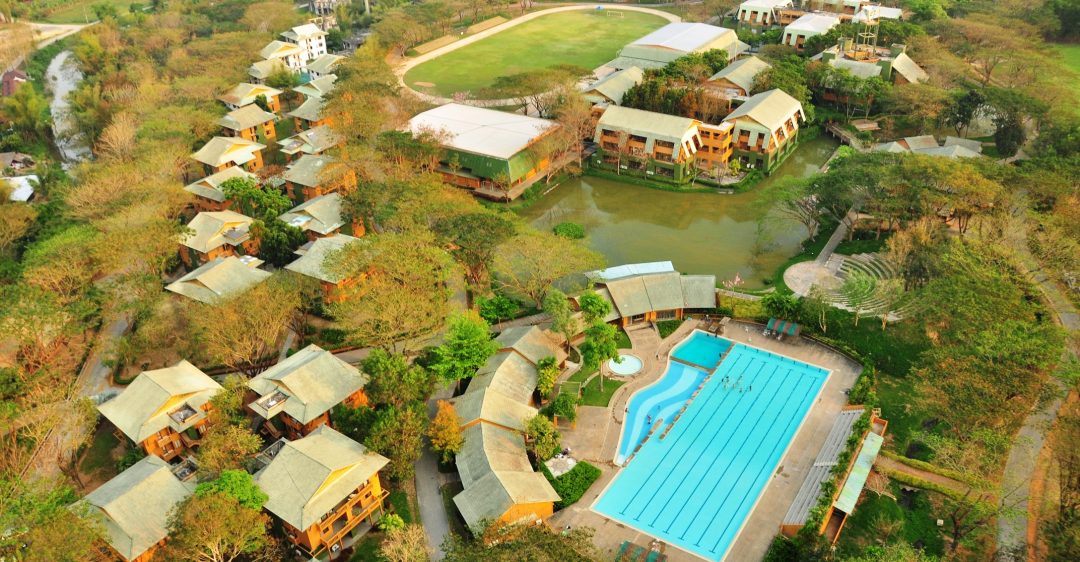 By Charlotte Hankin, Grade 3 / 4 Homeroom Teacher
作者:Chalotte Hankin 三年级和四年级的班主任
Prem Tinsulanonda International School is an EY1 – Grade 12 IB World international boarding and day school for boys and girls aged 3–19. The school is on a beautiful100-acre campus, and has approximately 500 students coming from over 31 countries. At Prem, students from all over the world receive a meaningful education providing the competencies for increasing cross-cultural interdependence. Whether in our well equipped classrooms with our excellent teaching staff, or during exciting outdoor learning, or our wide range of service projects, or on adventurous local or international field trips, and whether a day student or boarder, Prem students feel their school is the best in the world!
普林国际学校(PTIS)是集幼儿园、小学、初中、高中为一体的男女混合国际学校,该校采用IB(国际文凭)课程体系,学生可选择走读或住宿。Prem学校占地100英亩,拥有来自31个国家的近500名学生。非常有意义的是,这些学生在这里无形中增强了跨文化相互依存的能力。无论是我们设备齐全的教室、我们优秀的教师,趣味盎然的户外学习、广泛的课题项目、抑或是当地或者国际的实地考察冒险,无论是寄宿或走读的学生都觉得普林国际学校是最优秀的!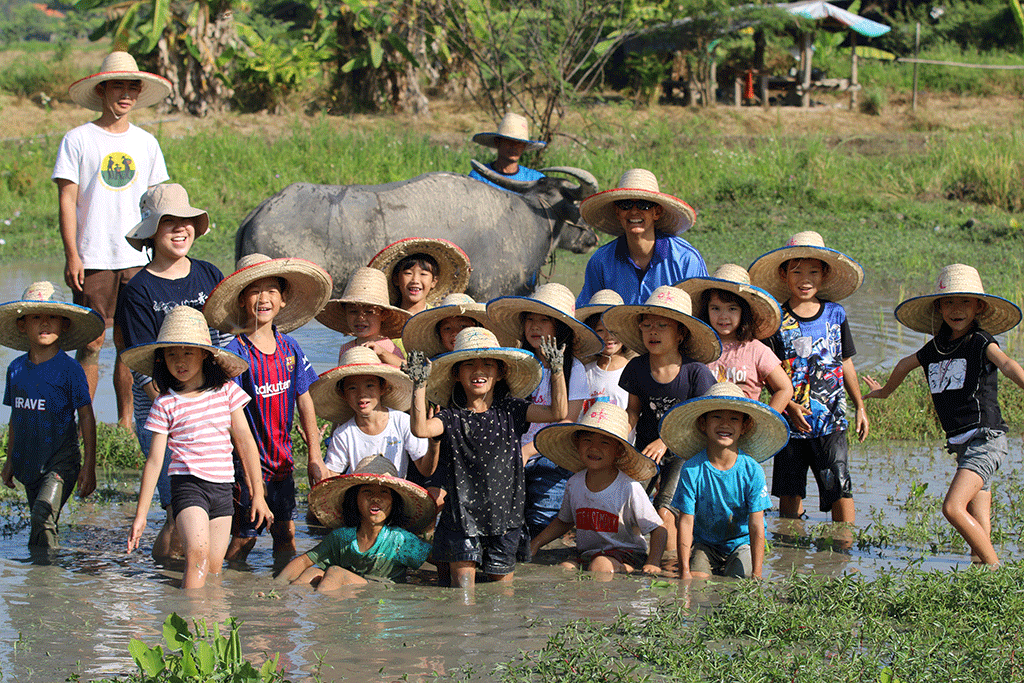 Now just Imagine you are at Prem …
Look up and you see a multitude of birds and exotic tree tops. In the distance, rugged mountains overlook rows upon rows of paddy fields and local farmers with their water buffalo. Feel surprised by the unexpected rustling sounds of lizards and frogs in nearby bushes whilst large butterflies skim past your nose. Take care with every footstep though as brightly-coloured insects dot along your pathway. Bamboo is only ever a few footsteps away and fresh running water can be easily found from all corners of the campus. In every direction you find every shade of green imaginable and when you close your eyes, you hear the harmony of Earth. 
现在请想象一下你身处普林校园。抬头向上,你会看到纷飞的鸟群掠过热带雨林的树冠。在远处,崎岖的山峦俯瞰成排的梯田,一头水牛正在稻田里帮农民伯伯犁地。不远的灌木丛中,蜥蜴和青蛙在其间走动发出簌簌声;而在眼前,硕大的蝴蝶滑过鼻尖,这一切都让你感到欣喜。你沿着小径继续往前走,每一步都小心翼翼,以免打扰到色彩斑斓的小昆虫。路的旁边就是涓涓细流和翠绿的竹林。目之所及,是你能想象到的各种绿色。轻轻闭上眼睛,你会听见大自然的和声。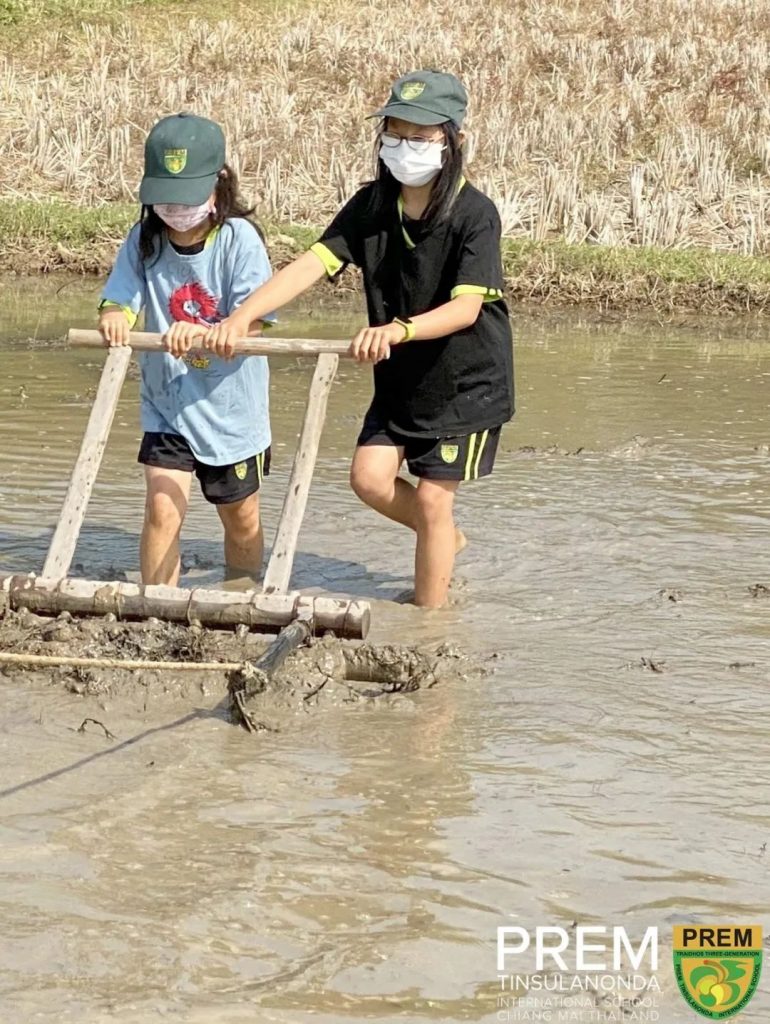 As a teacher at Prem Tinsulanonda International School in Chiang Mai, this is the incredible classroom I share with my students. 
This is what brought me to Chiang Mai and Prem's beautiful campus. It is here that I commit to take my students beyond the four walls of the classroom at least once a week for quality, sustainable experiences in nature. Luckily for us all, Prem has many facilities that make this achievable. 
这里,就是我和我的学生们在清迈普林国际学校的教室,多么不可思议呀!这也是我选择普林的原因。正是在这所学校,我做出了承诺,每周至少要带学生走出教室一次,去感受高质量、可持续的自然体验。幸运的是,普林国际学校的许多设施都可以帮助我们所有人实现这一点。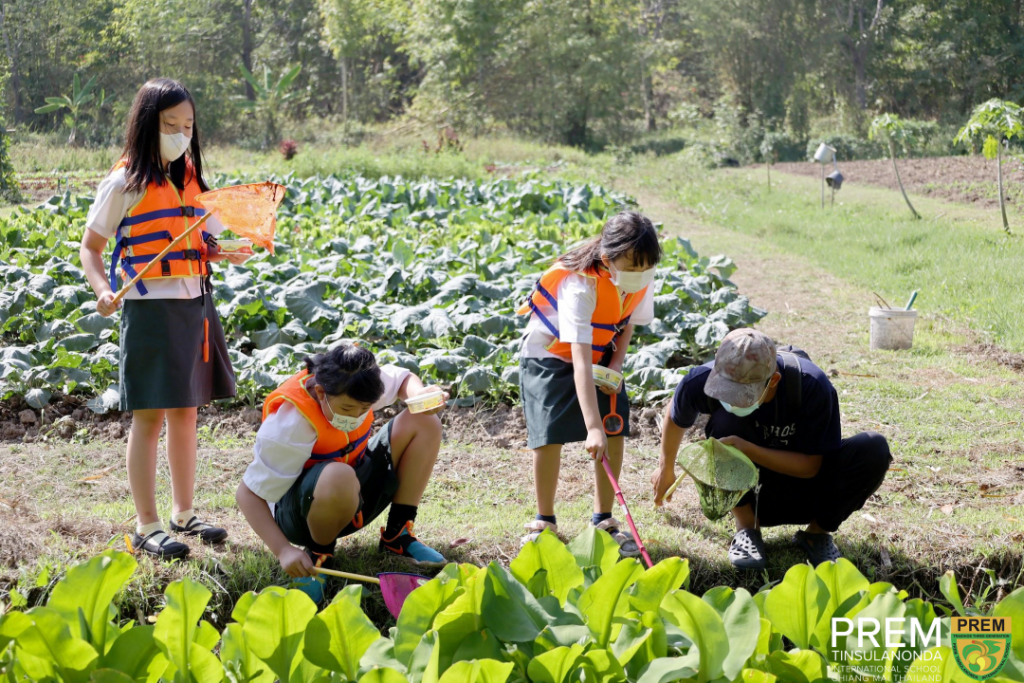 Most notably, we have a farm, a real working farm that grows an abundance of food for the local community and serves as home to goats, pigs, buffalo, tortoises, chickens and so much more. It is here that we can engage with the animals, learning about their anatomy, diet, habitat as well as finding a moment of calm through feeding experiences and sketching. 
最值得注一提的是我们有一个农场,一个真正的工作农场,为当地社区种植丰富的食物,是山羊、猪、水牛、乌龟、鸡的家园。在这里,我们可以与动物接触,了解它们的解剖结构、饮食、栖息地,并通过喂食体验和素描找到平静的时刻。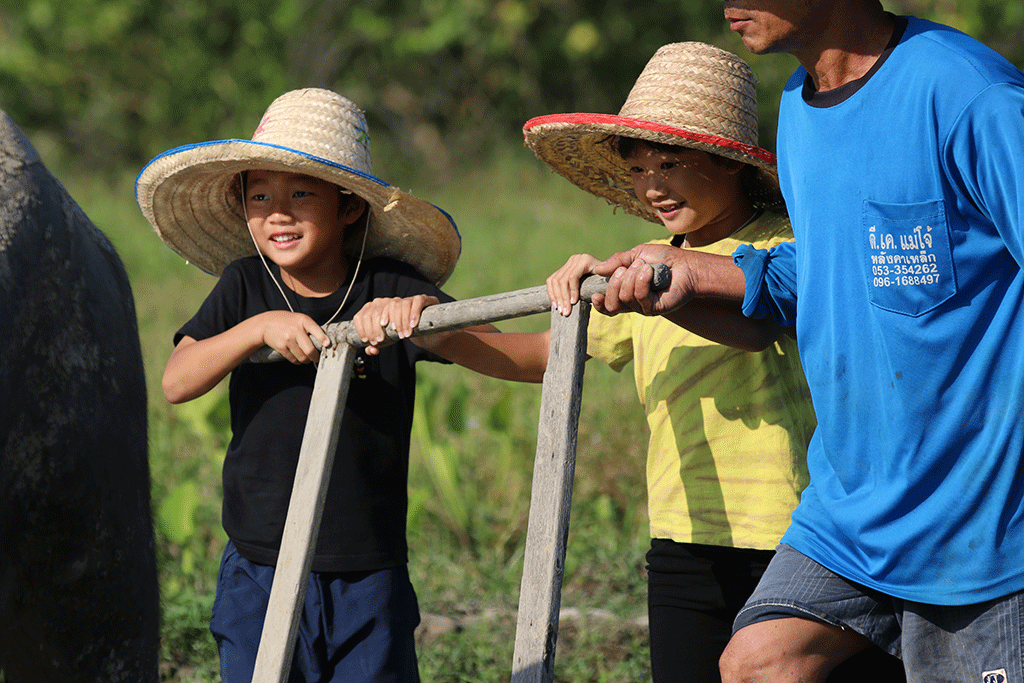 We build respect for nature by learning how to create natural paint and fabric dyes, drawing inspiration from the earthy hues in our locality. Understanding the science and design of hydroponic gardening is available to us as is the complex system of composting (using our leftover cafeteria food). During one unit of inquiry last year, my students and I learned the process of biochar as we explored the changing states of matter in the farm's underground oven. What magic to place rotting fruits and vegetables in the oven one week, and return a week later to find it all beautifully-preserved as charcoal! After bringing the treasures back to our classroom and admiring the beautiful patterns and textures for a few weeks, the students chose to crumble them all up and place them inside the plant pots on campus as fertilizer. This regenerative act demonstrated to me the students' care and respect for their world. 
我们通过学习如何创造天然颜料和织物染料来尊重自然,并从当地的泥土色调中汲取灵感。了解水培园艺的科学和设计对我们来说是可行的,就像复杂的堆肥系统(使用我们食堂吃剩的食物)一样。在去年的一个单元调查中,我和我的学生们在探索农场地下烤炉中物质变化的状态时,了解了生物炭的生产过程。把腐烂的蔬菜水果放进地下烤炉一周后就变成了像木炭一样的生物炭,这是多么神奇呀!学生们把这些宝贝带回教室,欣赏它们美丽的纹理和图案。几个星期后,生物炭被放进了校园的花盆里化作为春泥。学生们的这一行动向我展示了他们对自然的关心和尊重。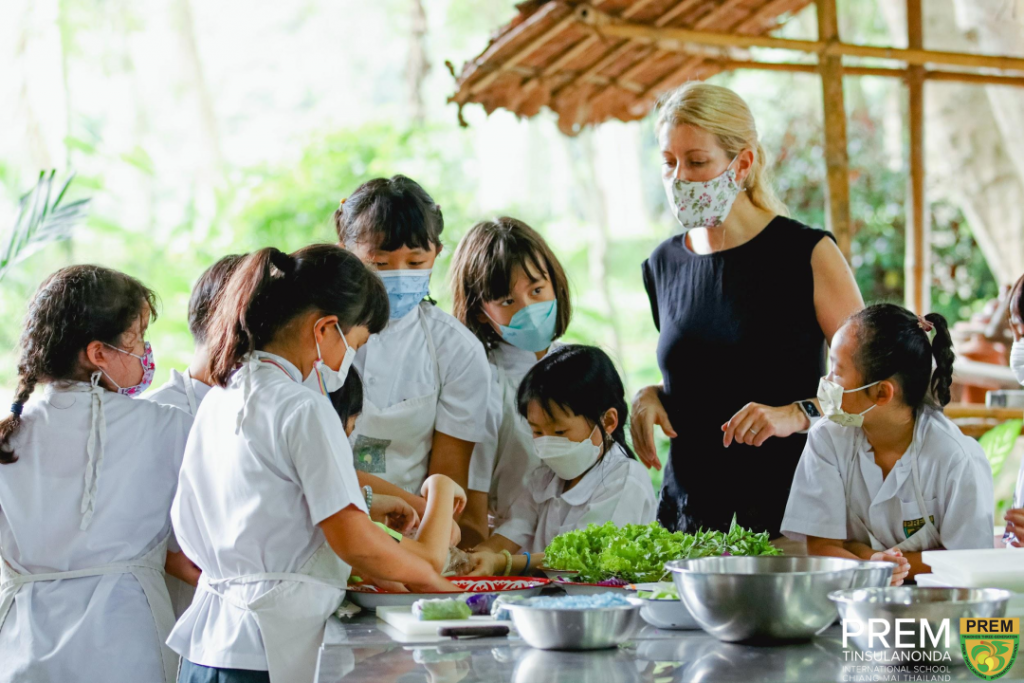 Fortunately, we also have a cookery school where we harvest, cook and taste food in a lush, outdoor experience. This year, my students and I were exploring human bodily systems and used a cooking experience as a way to learn about how the food we eat affects our digestion, circulation and immune systems amongst others. Prem's cookery school is a place where students can expect to collaborate with others around stoves and boiling liquids, whilst using large knives in a safe and controlled environment. Here, students learn how to take risks and use equipment responsibly and sensibly. Tasting new foods is also a source of risk-taking and taking food home to loved ones teaches them to be generous with their actions by sharing the fruits of their labour. 
我们还有一所烹饪学校,真让人开心!我们可以在大自然的美景中制作、品尝采摘的新鲜食物。今年,我和学生们探索了人体系统的奥秘。我们通过烹饪不同的菜肴来了解我们所吃的食物是如何影响消化、循环和免疫系统等等。在普林烹饪学校,学生们分工合作时会小心炉灶和滚烫的开水,以免被烫伤;在使用刀具时,也会额外注意安全。在这里,老师鼓励学生们勇于探索、尝试,也教会他们如何正确地、负责任地使用一些厨房用具。品尝新的食物也算是一种尝试,而把劳动的果实分享给挚爱的家人,也教会了他们赠人玫瑰,手有余香。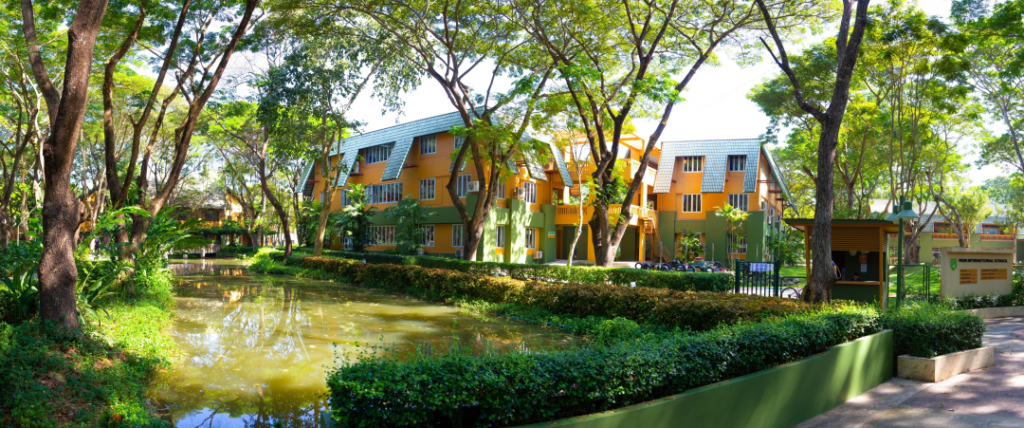 Our forest school is another area on campus that is a source of intrigue and opportunity. Just recently, my class and I were learning about the skeletal system and visited the forest school (in torrential rain!) to learn survival tactics. Students learned how to make simple splints to support broken bones, understood how to quell the flow of blood around the body in the event of an injury, and dress simple wounds. Memorably, the session opened with the gentle observation of a scorpion that had been found that day on the outskirts of our school grounds. We used this impressive find as an opportunity to learn about this magnificent creature's anatomy and how it differs from a human's. Understanding differences between species helps us to understand the uniqueness of our own species as well as building compassion, connection and respect for the diversity of life. In an increasingly globalised world, developing such attitudes towards those who are different to ourselves is a worthy endeavour. Forest school memories will always last longer than any counterpart textbook experience in our traditional classroom. 
我们的森林学校是校园里另一个令人向往的地方。最近,我们在学习骨骼系统,并且在暴雨中去了森林学校学习了生存技巧。学生们学习了如何制作简单的夹板来支撑骨折的地方,了解了受伤时如何止血以及简单的伤口包扎。令人难忘的是,那天课程开始前,大家好奇围观一只蝎子,它是在我们学校的郊野的地上发现的。这正是一个绝好的机会引导学生去对比了解人类骨骼系统和这只蝎子的异同。理解物种之间的差异有助于理解我们自己物种的独特性,并建立对不同生命的同情心,同理心以及尊重。在这个日益全球化的世界里,我们更要对不同种族的人怀有这样的态度。在森林学校里应用的这些知识将永远比在传统课堂上学的书本知识更加印象深刻。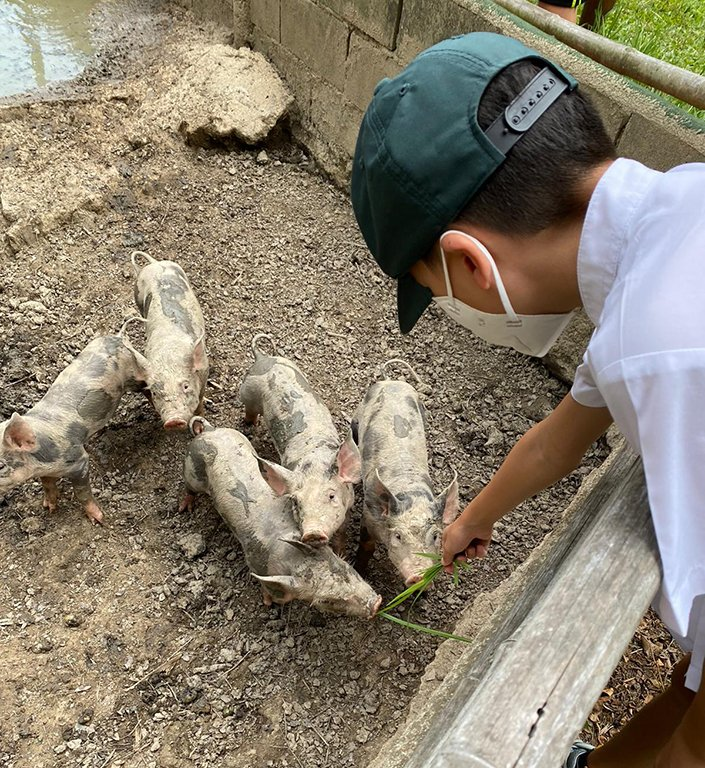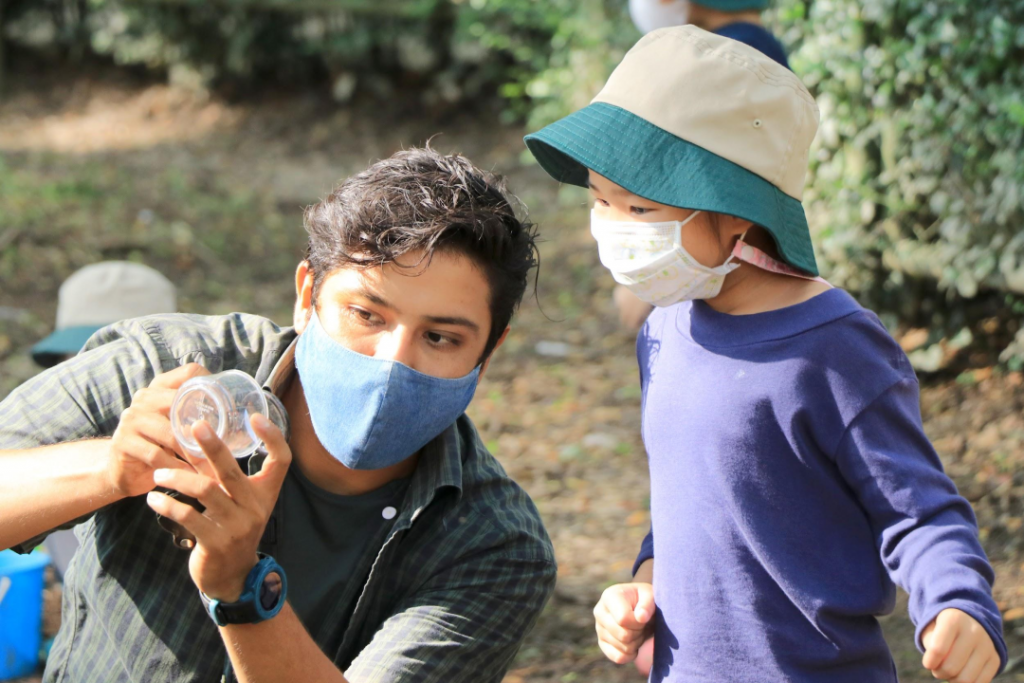 The whole of Prem's campus provides many opportunities for our Junior and Senior school students, to observe, collect, sort, classify and survey. Connections between mathematical and scientific endeavours come easily: aquaponic areas allow for the safe collection of water to determine its healthfulness whilst our fields, hedges and grassy areas provide many opportunities for studies into area, perimeter and measurement. Other green spaces such as our campfire area are wonderful places for storytelling, discussion and quiet reflection and the beautiful vistas across campus give artistic inspiration for story writing, photography, videography and other forms of artwork. 
普林学校整个校区为初、高中的学生提供了很多观察、收集、整理、分类和调查的机会。数学和科学研究之间的联系也变得很容易实现:鱼菜共生区可以安全收集水源来确定它的健康程度,而我们的田地、树篱和草地为计算面积、周长和测量提供了不少研究的机会。其他的绿色空间,比如我们的篝火区,是讲故事、开展讨论和安静反思的好地方,校园内美丽的景色为故事的写作、摄影、录像和其他形式的艺术创作提供了艺术灵感。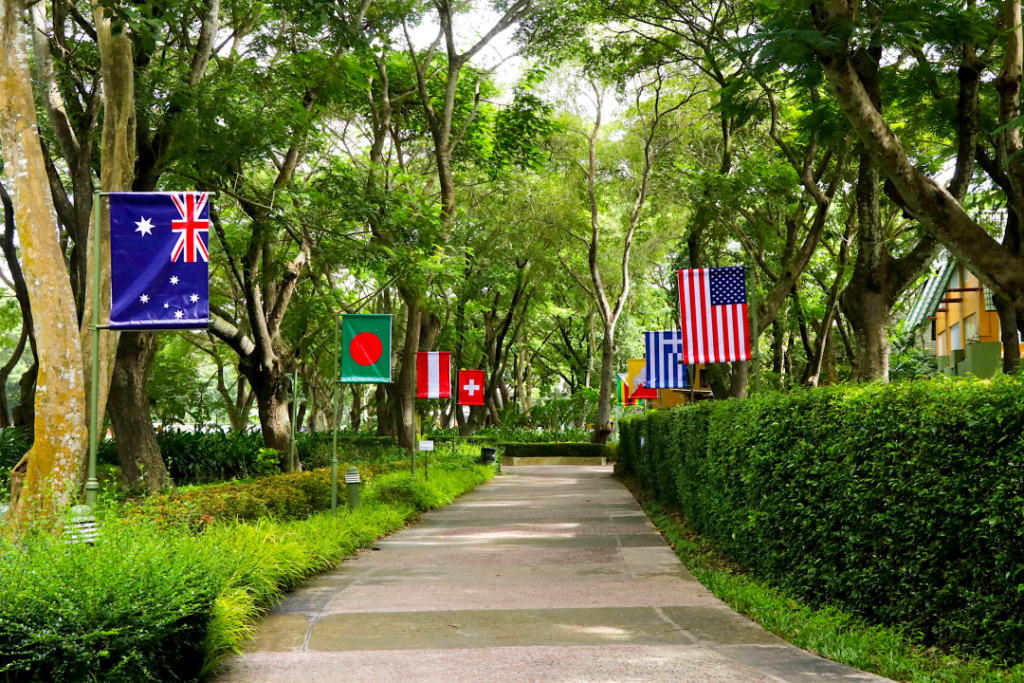 At Prem, we are fortunate to have specialist areas of campus such as the farm, cookery school and forest school, but since the whole campus is teeming with life, outdoor learning opportunities are plentiful, both for the experiences that require careful planning and also for those more spontaneous moments of school life. With a campus as beautiful as ours, outdoor learning at Prem reminds us to be committed to developing our sustainable educational practice, to ensure we re-evaluate how we treat the non-human world, and to take action to protect all life forms in our locality. Sometimes, in the busy working week, it can be easy to overlook what's immediately in front of us and we all need a reset from time to time, to come together to reflect, to discuss, to imagine possibilities. 
在普林学校,我们很幸运拥有农场、烹饪学校和森林学校等专业校园领域,因为整个校园都充满了活力,所以户外学习机会非常丰富,既有需要仔细规划的学习体验,也有学校生活中那些精彩的瞬间。普林学校的户外学习提醒我们要致力发展可持续的教育实践,让我们重新评估对待非人类世界的方式,并采取行动保护我们地区的所有生命体。有时,在繁忙的工作日里,我们很容易忽视眼前的事情,我们需要时不时重新审视,一起反思、讨论、想象各种可能性。
As a faculty, this is just what we did on a recent professional development day in October. Guided by our campus experts, Traidhos Three Generations, staff moved across campus to experience a variety of first-hand experiences: using water as a learning resource, forest bathing, mindfulness, nature as art, energy and technology, bird watching, and the manipulation of bamboo. Through professional dialogue, staff reflected on their student's learning experiences and were challenged to bring as much of the outdoors in – into their curricular areas, that is! The professional development day was energising and inspiring whilst serving as a timely reminder of why we need to continually review our relationship with the Earth and not take its resources for granted.  
作为一名教师,这正是我们在10月份的教师发展日所做的。在校内专家特拉伊多斯三代人(Traidhos Three Generations)的指导下,我们在校园内亲身体验了各种经历:将水用作学习的资源、森林沐浴、正念、自然艺术、能源和技术的结合、观鸟以及竹子加工。通过专业交谈,我们反思了学生的学习经历,并要求把更多的户外活动带入他们的课程领域,这就是我们要做的。教师发展日是充满活力,又鼓舞人心,同时也及时地提醒我们,为什么需要不断地审视我们与地球的关系,而不是把地球的资源视为理所当然。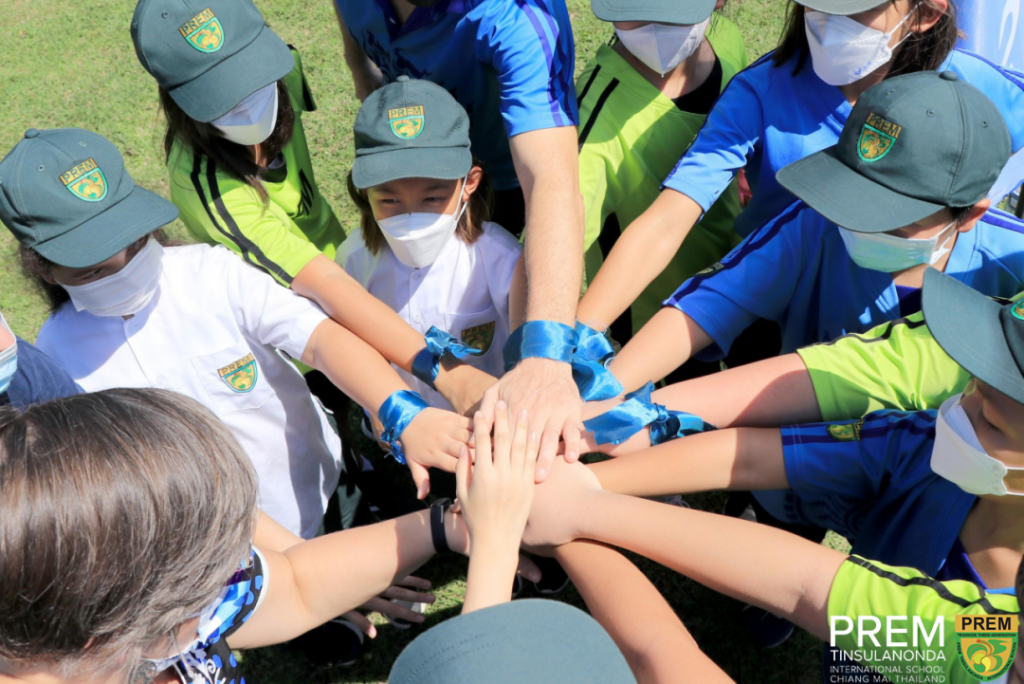 Scientists tell us that we are hurtling Earth towards a damaging point of no return, an unbelievable level of self-destruction that UN Secretary-General Ban Ki-moon described in 2011 as a 'global suicide pact.' In the aftermath of COP26 this October, it is clear that sustainable education must remain a high priority at all schools to ensure that our young people are equipped to deal with the increasingly precarious relationships of the future; their relationships with the planet and with other people. 
科学家表示,我们正在把地球推向一个不可逆转的毁灭点,这是一种难以置信的自我毁灭。2011年,联合国秘书长潘基文称其为"全球自杀协议"。在今年10月的第26次联合国气候变化大会(COP26)之后,很明显,可持续教育必须继续成为所有学校的优先事项,并确保我们的年轻人有能力应对未来日益不稳定的关系,以及他们与地球和其他人的关系。
In my capacity as an educator, one small goal I give myself is to help students appreciate the wonder of the natural world, to help nurture their gentle, caring and respectful relationships with other species and each other. Taking students outside to learn helps them interact with other species, and through curricular experiences, we can together work on projects that help to sustain the healthfulness of our ecosystems and regenerate life.  I continually remind myself how we, as adults, cannot expect our young people to care about the Earth if they don't develop a relationship with it; they don't develop a relationship with it unless they experience it. In a world of ever-enticing online experiences and Covid-19 restrictions, we can all play a role in protecting our Earth by encouraging our young people to spend time outside to experience the interconnectedness of life and learn how to contribute to a thriving ecosystem.
作为一名教育工作者,我给自己的一个小目标是帮助学生欣赏自然世界的奇迹,帮助他们培养与其他物种以及彼此之间温和、关爱和尊重的关系。带学生到户外学习有助于他们与其他物种互动,通过课程体验,我们可以一起开展项目,帮助维持我们生态系统的健康和生命再生。我不断提醒自己,作为成年人,如果我们的年轻人不与地球产生联系,我们就不能指望他们关心地球;如果他们没有经历过,他们不会与它建立关系。在一个网络日趋诱惑、受新冠肺炎限制的世界里,我们鼓励年轻人花时间到外面去体验生活之间的相互关联性,学习如何为繁荣的生态系统做出贡献,来保护我们的地球。