PCL Camps at Prem!
PCL营地活动在普林举办!
Last week saw the second installment of our Prem Community Learning (PCL) Week for our Grade 6-10 students. The Prem Community Learning Week is what used to be called Prem Camps and gives our students an opportunity to explore areas outside the curriculum, whilst learning skills, staying away from home and bonding with their classmates. Traditionally, these PCL camps are 4 days/3nights in November, but as with other activities we had to be flexible during the pandemic. Therefore, earlier in the year we had two stand alone PCL Learning days, and last week we finished it off with a 2 day/1 night residential camp for all our students.
All our grade level camps are themed (Grade 6: Team Building, Grade 7: Arts and Drama, Grade 8: Adventure, Grade 9: Service, Grade 10: Environmentalism), with students focusing on activities that promote essential life skills, such as cooking, leadership and working as a team.
上周,我们为六至十年级的学生举办了普林社区学习 (PCL) 周的第二期。  普林社区学习周以前被称为普林夏令营,让我们的学生有机会探索课程以外的领域,同时学习技能、住在家以外的地方并与同学建立起联系。 传统上,这些为期四天三夜的PCL营地活动在 11 月举行,但与其他活动一样,我们在疫情期间必须灵活应对。 因此,今年早些时候,我们开展了两次独立的普林社区学习日,上周我们还为所有学生举办了两天一夜的住宿营。
我们所有年级的营地活动都是有主题的(六年级:团队建设;七年级:艺术和戏剧;八年级:冒险;九年级:服务;十年级:环保主义),也有很多能使学生专注于促进基本生活技能的活动,例如烹饪、领导能力和团队合作。
At Prem, we are in a perfect position with our sister organisation 'Traidhos Learning Community' having 20+ years of delivering outdoor education and camps for students from all around the world. In addition, our campus provides a fantastic environment to run these activities, with Chiang Mai being surrounded by nature and fantastic learning spaces.
As well as the Grade 6-10 camps, Ajarn Ian ran a Musical Theatre Camp for those students getting ready for the production that is coming this weekend. The camp gave these students to rehearse, get costumes and sets ready and I am sure this will aid them in delivering an outstanding performance on Saturday 11th June!
Some of the highlights were Grade 10's trip to Doi Inthanon, Grade 6 camping at Mok Fa, Grade 7 learning to cook pizza and spring rolls, Grade 9 learning photography and how to showcase it and Grade 8 hiking in preparation for next year's International Award.
Next year, our PCL Camps promise to be back to 4 days/3nights with students getting even more opportunities to test themselves and learn new skills.
在普林,我们与姐妹组织"特拉多斯学习社区"有着二十多年的活动经验,为来自世界各地的学生提供户外教育活动和夏令营。 此外,我们校园为开展这些活动提供了绝佳的环境——被大自然和美妙的学习环境所包围的清迈古城。
除了六至十年级的训练营外,兰老师还举办了一个音乐剧训练营,让学生们为本周末即将到来的演出做好准备。 夏令营给了这些学生排练、准备服装和布景的实践机会,我相信这将有助于他们在 6 月 11 日(星期六)有一个出色的表演!
这次活动的亮点包括十年级的茵他侬(Doi Inthanon)之旅、六年级的蓝天(mok fa)露营、七年级学习制作比萨和春卷、九年级学习摄影以及如何展示它,还有八年级的徒步旅行,这将为明年的国际大奖做准备。
明年,我们承诺会把普林社区学习营恢复为四天三夜的模式,让学生有更多机会挑战自己和学习新的技能。
Lee Stevens 李·史提芬
Director of Student Life 学生生活总监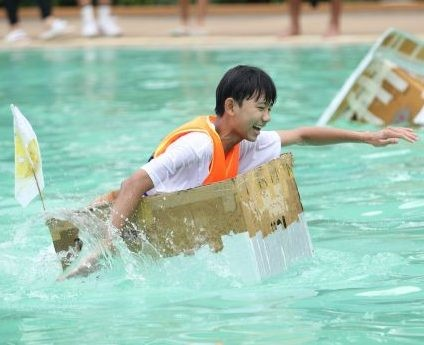 Prem Seniors crowned as CMAC Swim Champions 2022!
普林高年级组学生勇夺2022年度CMAC游泳冠军!
Unfortunately, the global pandemic has hit the Prem swimming programme the hardest with our swimmers in P.E and swim training last practising way back in 2019. A full three years later, our students have started back swimming in P.E and training in our after school swim training for Juniors and Seniors. While there was a bit of expected rustiness after such a long break the will and determination of our swimmers was still there, producing some excellent performances at the CMAC swim meets. Our Junior swimmers went out to Lanna school and brought home loads of medals and second place overall,  while our senior swimmers went one better, being crowned the CMAC swim champions for 2022.
The senior swim meet here at Prem and it was great to see so many swimmers enjoying being back in the pool. Well done to all the swimmers and coaches and the great thing is that we will not have to wait too long to do it all over again, with swimming reverting back to its normal spot in season 1 next year.
这场全球新冠疫情对普林的游泳项目的打击是最大的,这让我们感觉到可惜。我们的游泳运动员在体育和游泳训练中的最后一次练习要追溯到2019年。整整三年过去了,我们的学生已经开始在体育课上恢复游泳项目,并在我们的低年级和高年级的课后游泳训练中进行训练。 尽管经过这么长时间的休息,但我们游泳运动员的意志和决心仍然存在,并在 CMAC 游泳比赛中表现出色! 我们的低年级组的游泳运动员去了兰纳学校参加比赛,带回了大量的奖牌以及亚军殊荣,而我们的高年级组的运动员表现更好,获得了 2022 年 CMAC 游泳比赛冠军。
高年级组的游泳比赛将在普林校园内举行,很高兴看到这么多游泳爱好者享受重回游泳池。 所有的运动员和教练都做得很好,更加令人振奋的是我们不必等待太久,游泳运动马上就能在明年第一赛季恢复正常状态了。
Thanks to our Coaches: Ajarn Fred, Ajarn Cat, Ajarn Andrew, Ajarn Kaoru and Ajarn Ambika
非常感谢我们的教练:菲德老师,猫猫老师,安德鲁老师,考如老师和安比卡老师。
Lee Stevens
Director of Student Life 学生生活总监  李·史提芬